ComEd has two electricity pricing plans: (1) the standard plan that is based on a fixed rate, and (2) an hourly pricing plan. In addition, there are both individually-selected and community-selected alternative electricity suppliers. For more info see Electricity supplier choices for ComEd customers.
ComEd is northern Illinois' electricity utility and the hourly pricing plan is more formally known as the Residential Real-Time Pricing (RRTP) program, which began in 2007.
You can probably save money by selecting the hourly plan. And you will be more aware of the real-time cost of electricity, which is related to the environmental impact of electricity generation.
Click
here
for an iGoogle gadget and links
to a ComEd electricity price dashboard
What Does It Cost?
The fixed rate plan costs about $17/month plus 10.8¢/kWh. The hourly plan costs about $27/month plus approximately 7.1¢/kWh (the rate varies by hour – 7.1¢ is based on average costs in 2011 and the typical range is 5¢ to 9¢). These prices include all taxes and fees. See the chart to the right for the latest hourly price.
As you can see there are additional fixed costs for the hourly plan. The breakeven was about 400 kWh per month. So if your usage averaged more than 400 kWh then you probably would have saved money on the hourly plan.
NOTE: These prices are the total variable cost per kWh and include additional variable ComEd charges per kWh not included in apples-to-apples "Prices to Compare." The RRTP "Price to Compare" is currently 4.5 to 6.0 cents per kWh and is expected to go down to 4.0 to 4.5 cents per kWh effective June 2012. To learn more see Electricity supplier choices for ComEd customers.
What Are The Risks?
The main risks are: (1) rates aren't guaranteed and are based on hourly market rates and (2) the fixed costs change annually.
The additional fixed cost for hourly pricing is known as the "Capacity Charge." This is updated each June based mainly on each customer's actual usage during the five peak load hours the prior summer. This load would typically be about 2 to 5 kW and is affected most by whether your air conditioner is running during those five hours. The current Capacity Charge per kW is $3.60 through May 2012. It is estimated to go down to $0.54 per kW in June 2012, then $0.90 in June 2013, and then back up to $4.10 in June 2014.
What Are The Rewards?
If you average more than 400 kWh per month you will probably save money. And you will probably use less electricity when rates are high, which is when less efficient (and often higher polluting) plants are needed to meet the demand. Shifting your usage to lower rate periods is better for the environment.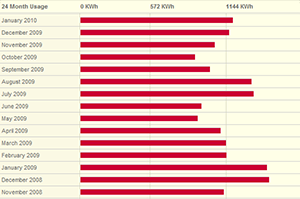 What is a kWh?
A kWh, or kilowatt-hour, is the amount of energy used by a 100 watt light bulb that is on for 10 hours.
There is a chart showing a 13-month history of your usage on ComEd bills. Or to see a 24-month history log into your ComEd account, then click on "My Usage", then "Usage History". You'll find a chart something like mine (see right).
So Should I Sign Up?
There are no guarantees but… if you average more than about 400 kWh per month you will probably save money and you will definitely be a more environmentally-aware electricity consumer.
To Learn More or Sign Up
For more info visit the ComEd Real-Time Pricing info page. Or to sign up click on the "Enroll now" link on the ComEd RRTP web site.
Maximize Your Savings
One of the largest cost factors in the hourly plan is how you use your air conditioner. For more information see Program your thermostat for ComEd hourly electricity savings.